'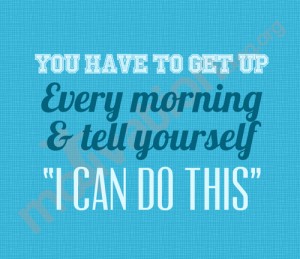 Do it. Do it N.O.W!
This post is for anyone feeling defeated, deflated, desperate, and/or undeserving.
If you feel defeated by life, dust yourself off, because today you are going to start playing a game you can win!
If you feel deflated because you think someone or something sucked the air right out of you then get ready to be pumped back up.
If you feel you desperately need some 'thing' or some 'one' outside of your self to make you happy then take a deep breath and look in the mirror because the only 'thing' and the only 'one' you need for happiness is staring right back at you.
And, if you feel you don't deserve to be happy or to experience high levels of joy and fulfillment then put the shame and the blame down the drain because life is precious and short and today you are going to step into your personal awesomeness!
There are just three simple (notice I didn't write easy) things you need to know in order to make all of that happen N.O.W.!
NO ONE is exempt from lifes' lemons.
You must open your mind to OPTIONS.
You must WORK at happiness EVERYDAY.
N.O.W. lets take a closer look…
No one is exempt from lifes' lemons:
Sh*t happens. Some really upsetting, total bummer, and tragic things happen. No one goes through life unscathed because it's the challenges of life that make us grow as individuals. The silver lining however, is as much as sh*t happens, SHIFT can happen too. EVERYONE has the opportunity for shift to happen.
In order for SHIFT to happen you need to take your attention off of other peoples illusionary 'perfect' lives and do away with any 'why me' and my imperfect life thinking and decide to shift! Once you decide to shift, I mean once you are ready to take the bull by the horns and make some changes, then you are ready for step 2.
You must open your mind to options:
Individuals tend to get stuck in thinking or behaving in one way. That's natural. Some people are raised to be seen not heard. Others are raised to speak their minds no matter the cost. Some are raised to think conservatively. Some are analytical. Some think life's a stage! No matter who, what, or how a person thinks or behaves it is inevitable for that way to be challenged. There are just too many people in the world for it not to happen!
Having who you are and how you think be challenged IS life. That is the catalyst for growth. If the caterpillar were not challenged he would never have become the butterfly. That little caterpillar had to one day open his mind up to other ways of potential being, thinking, and doing. He opened his mind to options!! You can remain the same, in the pain, with no gain, or you can opt to try something new, something different, and grow. Once you decide to explore other options of being, thinking, and behaving then you are ready to get to work! Hello step number 3.
You must WORK at happiness EVERYDAY
Work has such a negative connotation in our society but it really is the bomb. Work is what makes things happen. Working on your self can be the most fulfilling thing you can do. The trick is to work at who you want to become and at what you want to achieve EVERY SINGLE DAY.
Creating a mission and vision for yourself is crucial. From that point you can determine what needs to be done to attain your goals.  You then align your 'to do' list with your 'who you want to be' list.
At that point, work doesn't feel like work because everything you do is linked to a greater sense of purpose— the fulfillment of your best self. Work doesn't feel like work– it feels like liberation.
For example:
You can work at discovering and revealing your talents.
You can work on eating more fruits and vegetables each day.
You can work at how you express yourself to those around you.
You can work at being the next Oprah (but the YOU version of Oprah)
Whatever work you need to do, get to it!! If you're unsure what steps to take then talk to a trusted friend, family member, counselor, or life coach!!
Remember  life will hand you lemons but but you can decide to shift it to lemonade, you have options (maybe make a lemon meringue), and you can wake up each day thinking I can do this!
Do it! Do it N.O.W.!