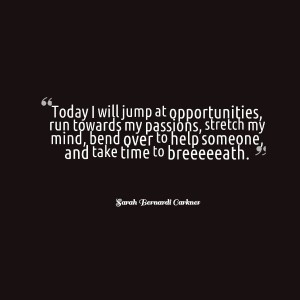 We all know how important it is to exercise our body but do you take the time to exercise your mind? Not only is it important to keep our minds sharp by doing games like Sudoku and Luminosity but its equally as important to exercise our attitudes and open our mind to changing our thoughts in a way that will allow us to take the actions needed to best supports our goals.
Maybe you are a person who hesitates and over-analyzes and you need to work on jumping at opportunities as they arise.
Maybe you are an "I'll get to it one day" thinker and time just keeps passing you by. Well then you need to learn to run towards your passions!
Could it be that you are a black and white thinker who could benefit from stretching your mind to see the beauty in various shades of grey? (50 maybe? teehee)
Are you too focused on yourself? If so then its paramount that you start taking the time to bend over and help some one else.
Or are you simply so on the go that you barely have time to read this blog? If the answer is yes then the first step is to simply take a big inhale and breeeeath.
No matter what it may be, its crucial to explore what mind expanding attitude adjusting exercises you could benefit from. A little cardio for your cranium goes a long way!